Please note we have a new email address:-
Email tony.7ca@aol.co.uk
---
A new product for us, but these are well tested. And have been supplied to many road and race cars. We only have three left at the moment after initial interest for collection at Beaulieu. I have another larger batch on order, covering many variations. So some sizes may run out before other. Pre orders to miss disappointment are welcomed. The new price will be £350 per set. As we are passing the saving of buying bulk onto our customers.
---
Back in stock after a long break, pigsty Ulster rep exhaust manifolds. It's been several years since we've been able to get these in stock. Alex at pigsty has asked me to market these at £225.00 we have "one" that was made to fit the narrower Ulster TT body.

We have had valves and guides come back into stock. We are now buying direct, so the savings are being passed onto our customers.
26mm valves are being reduced from £8.00 to £5.00
29mm valves are being reduced from £8.50 to £5.50
Stepped guides are being reduced from £4.00 to £3.25
Parallel guides are being reduced from £3.00 to £2.00
This makes the cheapest on the market for high quality parts by far.
Sports slipper Pistons now back in stock - see below
Welcome to the 7 County Austins website. We are a family business that supplies a wide range Austin 7 spares. We have a range of good quality new, used and reconditioned parts for the pre-war Austin Seven. The website shows only a selection of the Austin Seven spare parts that we can supply so even if you cannot find what you want please give us a call as we may still be able to help.
We are a company started by enthusiasts for enthusiasts, we are always happy to give advice to fellow owners, on maintaining or restoring your car, call Tony or Tracy on 0116 2867522 between 9am and 9pm.
We offer a prompt postal service by Royal Mail or Courier, Postage charges are estimated at point of order. Orders can also be collected by prior appointment from our premises which are conveniently situated 5 minutes from J21 of the M1 - see map on Contact page.
We do NOT charge VAT Please make all cheques payable to A. P. BETTS.
From the 4th May to 29th September we will not be able to take telephone orders on weekends, however please feel free to call us Monday to Friday 9am to 7pm as usual.
Please note we have a new email address:-
Email tony.7ca@aol.co.uk
---
Sports slipper Pistons now back in stock.
We are keeping the Pistons at the same price of £180 set of pistons, rings and either pinch or floating gudgeon pins.
Always cheaper than our competitors
.
---
8/9/18 Ulster exhausts back in stock, new item crown wheels and pinions.
31/7/18 Sold items removed from used parts page.
17/7/18 3 items added to top of used parts page.
11/7/18 3 new items added to top of used parts page.
6/7/18 2 new items added to top of used parts page.
26/6/18 5 new items added at the top of the used parts page.
---
Back in stock 3 speed remote gear levers. We have managed to keep the price the same as last batch
£375
---
NEW ATLA aluminium sports heads. Ideal for Austin 7s and Brough Superior motorcycles. £300 fully machined.

---
We have had made a small batch of Arrow door sill plates, 10 pairs only. So first come first served. These are an exact copy of the originals shown in the same
pictures. Price £65.00 pair.
---
Switch panel brass connecting strip. Most of these are damaged, pic one stows the switch panel. Pic two shows the reverse with damaged and soldered brass strip pic three shows the panel with new strip fitted. Price £4
---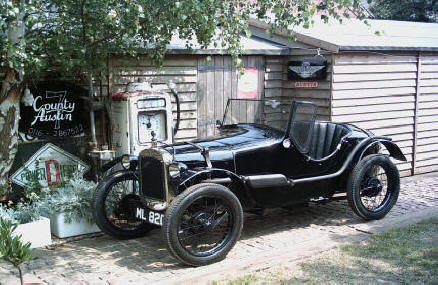 The Family car - a 1928 Super Sports