Please note we have a new email address:-
Email tony.7ca@aol.co.uk
---
2/6/22 Eight items added to top of used parts page..
5/8/22 Three new items added to top of used parts page.
1/8/22 New cranks and con rods added.
29/7/22 Sold items removed from used parts pages.
2/6/22 One item added to top of used parts page..
30/5/22 Three items added to top of used parts page..
---
NEW 1 5/16 splash fed crank. these are forged, we had them x-rayed, while others don't. They are the same nitride as the Hadley which is much deeper than others. The pickups have been put in the correct position and the oil hole is fully visible. With the larger radius on the big ends. We only have 3 left out of the batch of 10.

£1,050 each.
---
From the latest batch of Hadley cranks
. Is a new fully counterbalanced pressure fed crank. I have THREE for sale, we only get the chance to have a batch made every 4 to 5 years. So once sold out, there will be another long wait.

£1,500
---
NEW set of 1 1/2 Hadley rods.
They come with a new set of shells. Again we only have 3 sets, and they are rarely made.

£1,100
---
Drag Links
I've had a small batch of drag links made for the Austin 7. Due to a large number of the original being corroded, bent, or damaged. These are fully built up with a new set of ball, cup, and springs. They have already been greased. The rod just needs painting and fitting.
Our price £75
---
Slipper pistons just in.
I was hoping to have a full range but the 56.25 were missed from the order.

So we have a full shelves of:-

56mm equivalent to standard 2.2
56.50mm equivalent to plus .20
56.75mm equivalent to plus .30
57mm equivalent to plus .40
57.25mm equivalent to plus .50
57.50mm equivalent to plus .60
57.75mm equivalent to plus .70
I have also stocked in plenty of spare ring sets, so our customers have peace of mind. They can change ring sets in the future if anything gets damaged.
---
Coming soon:-
We are having our own sports aluminium valve chest covers made - £30 each. Also NEW aluminium valve chest thumb knobs - £6 each
---
Short rear damper arms, It's been a while since we last made these, for low frame chassis, set of 4 pieces.

Price £35
---
Brake connecting rods.
It's been while since I've made the, I've been told other suppliers have made these over the last few years but have mistakenly copied the rod that was fitted to the 1939 to 1939 cars. So the rod is only 11 inches long. Our new connecting rods are made at 14 inches long. That's 15 inches including the yoke. These were originally made to fit all Austin 7s from 1923 to 1935. And if you want to fit it to the 1936 to 1939. You can shorten the rod.
We are supplying them in two ways, the first with the late type adjusting nut, price £18.00 or second with the brass wing nut for £27
---
NEW, Ulster,chummy,nippy. Steel rad surrounds. Complete with filler neck, and strengthening supports inside. Best quality. Price £500
---
Head Gaskets. Being un satisfied with head gaskets we have stocked from other suppliers. I have had my own tooling made and high compression gaskets are now in stock. These are made closely the Austin originals. All hole sizes are same as original. Gasket thickness is the same. We have a good turnover edge on the copper, with NO gaps. Our price £26 each or we are doing packs of 5 at a 10% trade discount.


---
Welcome to the 7 County Austins website. We are a family business that supplies a wide range Austin 7 spares. We have a range of good quality new, used and reconditioned parts for the pre-war Austin Seven. The website shows only a selection of the Austin Seven spare parts that we can supply so even if you cannot find what you want please give us a call as we may still be able to help.
We offer a prompt postal service by Royal Mail or Courier, Postage charges are estimated at point of order. Orders can also be collected by prior appointment from our premises which are conveniently situated 5 minutes from J21 of the M1 - see map on Contact page.
We do NOT charge VAT Please make all cheques payable to A. P. BETTS.
From the 4th May to 29th September we will not be able to take telephone orders on weekends, however please feel free to call us Monday to Friday 9am to 7pm as usual.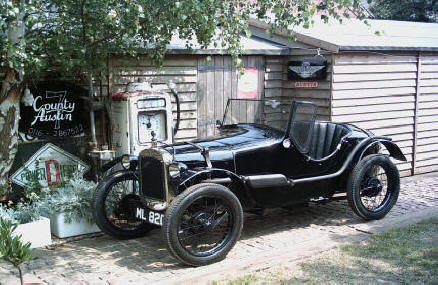 The Family car - a 1928 Super Sports